Local Woodworkers in the Spotlight
WOOD, A Furniture Show XIII
 January 13 – February 24, 2023
The Escondido Arts Partnership is pleased to announce the thirteenth annual presentation of WOOD, A Furniture Show, hosted by Brian Murphy of Murphy's Fine Woodworking. This exhibition will feature a gathering of some of the very best furniture makers in Southern California showing their work at the Escondido Municipal Gallery.  Handcrafted furniture will be exhibited in a variety of wood mediums and techniques, including innovative contemporary, traditional and whimsical art furniture, as well as detailed
veneering and marquetry works.
This exhibition is presented in association with the
San Diego Fine Woodworking Association.
Exhibitions are always free and open to the public.
The opening reception on Saturday, January 14th
provides an opportunity for the public to meet the featured woodworking artists from 4:00PM to 7:00PM.
Awards for outstanding workmanship will be announced at 6:00PM.
The Escondido Municipal Gallery is located at 262 E. Grand Ave.
Hours are Tues. 11am – 5pm and Thursday – Saturday 11am – 4 pm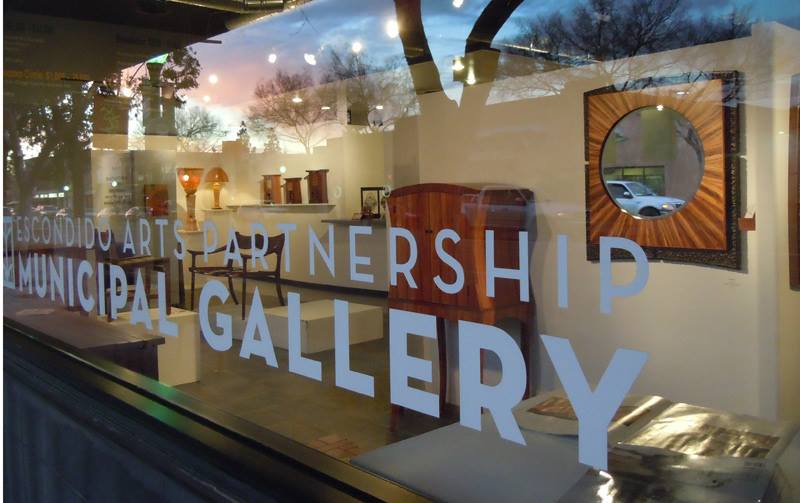 Submission Details for Woodworkers
Become an Awards or Event Sponsor
see Times Advocate article here see coast news article
See San Diego Fine Wood Workers article
Thank You to 2022 Wood Sponsors
Strata Forest Products, GL Veneer, 
Cynthia and George Weir Family Foundation, Hettich Hardware, 
Escondido Chamber of Commerce, Escondido Sunrise Rotary
Glaser Bailey Awards, JD Built, Don Manor,
The Woodaman Famiy, Peak Tool Works,
Brian & Nancy Murphy, Jill Campbell,
Maketory, Surfing Madonna Oceans Project
See Photos of Wood: A Furniture Show XII 2022
Artists in 2022 Exhibition
See Photos of Wood: A Furniture Show XI 2019
Thank You to 2019 WOOD sponsors
Don Manor, GL Veneer,  Veneer Tech, Strata Forest Products,
Amana Tools, Hettich America, Franklin America,
Peak Tool Works, Escondido Sunrise Rotary,
Erickson-Hall Construction Co.
See Photos of Wood VIII 2017 Watch Video from Wood VII 2016